---
Ronald McDonald House New York created its Hope Awards in 2008 as a way to recognize the distinguished leadership and dedication of its volunteers. The Hope Award is the highest recognition that Ronald McDonald House New York can bestow upon a volunteer.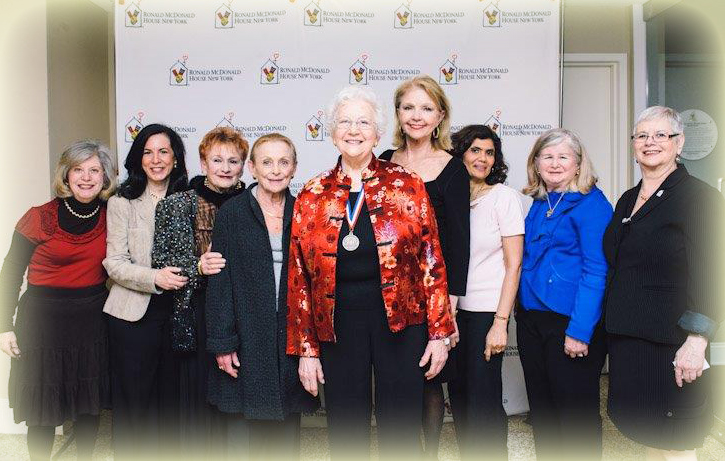 "Hope" was chosen
as the name to represent optimism, faith, promise and positive expectation. It is the main attribute that volunteers use to help the children and families served. 2013 Hope Award recipients included
Bernice "Bunny" Barb,
co-chair of the Women's Auxiliary Ronald McDonald House Committee.
At the April 23, 2013, award ceremony,
Rabbi Amy Ehrlich
delivered the following introductory remarks about Bunny:
"BUNNY BARB and her husband, Dr. Jack Barb, of blessed memory, were among the first people to welcome me into the community 25 years ago. I mention Jack at this moment, because he was an essential part of Bunny's life. They were a couple devoted to helping and to caring. Jack, as a physician, and Bunny, as — well — everything that needed to be done in order to guide someone back to the road to healing. To be in their care meant that you were embraced. It was a welcome feeling of safety.

To know Bunny is to be swept up by her joy, her delight in playful exchanges and her warmth. That enthusiasm is anchored by a heart of gold. She has an affinity to help, a need to make things better. Not that she isn't a realist… but her outlook is always one of Hope. And that is why we are here this evening. If we could see the world through her eyes, we would all be just a little bit happier, a bit more optimistic, just that much closer to the world as we hope it could be.

I am blessed to have shared so many years at Bunny's side, under the umbrella of her kind and thoughtful influence. I know so many of you feel as I do.

Mazal tov, Bunny. Congratulations to you and to those who look to you to share your sweet gifts."
Back to Ronald McDonald House
To view photos from the awards ceremony,
click on the thumbnails below to enlarge.