---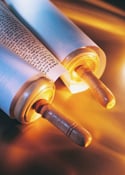 Temple Emanu-El's weekly Torah commentary is prepared by members of our clergy, senior staff, Religious School faculty and Saturday morning Torah Study group. An electronic version can be sent to your email inbox each Monday morning by subscribing to our electronic mailing list. Blog comments will be moderated. Please note that we reserve the right to delete comments that are deemed inappropriate, use offensive language, promote personal attacks or are self-serving (promote goods and services). At the same time, we hope that this blog will promote thoughtful dialogue and continued learning.

Parashat Mishpatim (February 25, 2017)
By Ben Kirschenbaum
IN THIS WEEK'S
PARASHAH,
the newly formed Jewish people suddenly are confronted with many new laws and rules, regulations, restrictions and requirements by which to live their lives and conduct their day-to-day affairs. As with many aspects of life, much of what they are told is logical, sensible and inherently vital toward the preservation of a functioning civil society, where individual rights, liberties, values and aspirations are protected. But, these laws and rules also help them achieve the delicate balance between survival in the world in which they live and the personal refinement that helps them strive toward a higher, more G-d-like self. Many of the other laws that were passed may seem more arbitrary and less logical, but they do appear in the same venerated and holy text. Should those which do not appear to be as relevant to our lives be met with any less enthusiasm and solemnity?
Continue reading Ben's commentary »
Sunday February 19th |
Post a comment/View comments »
(0 comments)
Parashat Yitro (February 18, 2017)
By Ilana Symons
IN
YITRO,
we read the most important contract made in the history of the Jewish people: The Ten Commandments. There is a lot of pomp and circumstance leading up to G-d's pronouncements. Then, "the people witnessed the thunder and lightning, the blare of the horn and the mountain smoking and… they fell back and stood at a distance." (Exodus 20:15) They feared G-d, and the responsibilities that G-d set before them.
Continue reading Ilana's commentary »
Sunday February 12th |
Post a comment/View comments »
(0 comments)
Parashat Bo (February 4, 2017)
By Bettijane Eisenpreis
PARASHAT BO
TAKES ITS NAME from the first word of the Lord's command to Moses, "Go (Hebrew:
Bo
) to Pharaoh." That much is clear; what follows is profoundly troubling. God states here, and several times before and after, that He has "hardened Pharaoh's heart." If this were simply the story of a wicked king who never really wanted to let the Israelites leave Egypt, then there would be no problem. It would be, in the words of a title by the late Jimmy Breslin, another version of "How The Good Guys Finally Won."
Continue reading Bettijane's commentary »
Sunday January 29th |
Post a comment/View comments »
(0 comments)
Parashat Va-eira (January 28, 2017)
By Bettijane Eisenpreis
IT IS INTERESTING THAT MOSES, to whom the Lord is said to have spoken "face to face," and who probably does more speaking than any other single character in the Bible except for God, is said to have a speech impediment. Moses who recites the Ten Commandments to the Hebrews! The Book of Deuteronomy almost entirely is composed of Moses' repetition of laws given in earlier books. And, at the end of Deuteronomy, Moses recites one of the most beautiful poems in the entire Bible.
Continue reading Bettijane's commentary »
Sunday January 22nd |
Post a comment/View comments »
(0 comments)
Parashat Sh'mot (January 21, 2017)
By Warren Klein
AS A VISUAL PERSON,
Sh'mot
was a very exciting
parashah
for me to revisit. Almost immediately I was reminded of some of the incredible medieval illuminated Haggadah manuscripts that illustrate scenes from
Sh'mot
chapters 1-5, manuscripts such as the Golden Haggadah in the British Library and the Sarajevo Haggadah.
Continue reading Warren's commentary »
Sunday January 15th |
Post a comment/View comments »
(0 comments)