---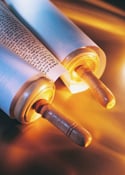 Temple Emanu-El's weekly Torah commentary is prepared by members of our clergy and senior staff. An electronic version can be sent to your e-mail inbox each Monday morning by subscribing to our electronic mailing list. Blog comments will be moderated. Please note that we reserve the right to delete comments that are deemed inappropriate, use offensive language, promote personal attacks or are self-serving (promote goods and services). At the same time, we hope that this blog will promote thoughtful dialogue and continued learning.

Parashat B'haalot'cha (May 25, 2013)
By Dr. Mark Weisstuch
Parashat Naso (May 18, 2013)
By Saul Kaiserman
AMULETS, SUPERSTITION AND WITCHCRAFT — perhaps the enduring remnants of the pagan worship of our ancestors — always have been a part of Jewish folk religion. Golems, dybbuks and demons play key roles in the Talmud, the stories of our grandparents and our imaginations today. It still is common practice to change one's name after surviving an illness or to wear the mezuzah as a good-luck charm, a
hamsa
to ward off the evil eye or a red string after a visit to the Kabbalah Center.
Continue reading Saul's commentary »
Sunday May 12th |
Post a comment/View comments »
(0 comments)
Parashat B'midbar (May 11, 2013)
By Elizabeth F. Stabler
"ELISHEVA, HAS MOSES stopped by today?" Aaron asked his wife. "He was going into the
Ohel Mo'ed
[Tent of Meeting]." "Yes, my dear," Elisheva said. "He was just here. He was looking for you — apparently God has assigned him an enormous task." Aaron sighed. "I'll to go find Moses. I will be back as soon as I can," Aaron said as he left.
Continue reading Liza's commentary »
Sunday May 5th |
Post a comment/View comments »
(0 comments)
Parashat B'har-B'chukotai (May 4, 2013)
By Missy Bell
THIS WEEK'S TORAH PORTION is actually two portions combined —
B'har
and
B'chukotai
.
B'har
begins with some of the many agricultural laws in the Torah. The Israelites are told of the Sabbatical year — that every seventh year, the land must be allowed to rest. We also learn of the Jubilee year, the 50th year. What follows is a long list of mitzvot that must be observed in the Jubilee year. In
B'chukotai
, the Israelites learn of a number of rewards and punishments that will fall upon them depending on whether or not they keep these mitzvot. Many of these, too, are related to land and agriculture.
Continue reading Missy's commentary »
Sunday April 28th |
Post a comment/View comments »
(0 comments)
Parashat Emor (April 27, 2013)
By Rachel Brumberg
"AN EYE FOR AN EYE and a tooth for a tooth." This week's
parashah
(portion) brings us one of the most quoted passages in the Torah. We've all heard it; we've probably even all said it at some point in our lives. But what does it really mean? And is it right?
Continue reading Rachel's commentary »
Sunday April 21st |
Post a comment/View comments »
(0 comments)