---
Men's Club Book Group

"My Father's Paradise" by Ariel Sabar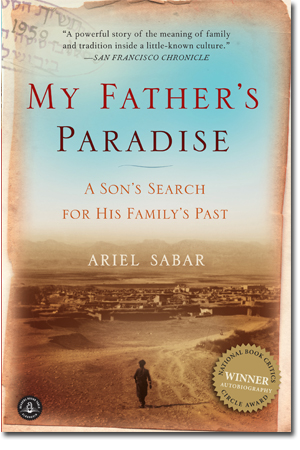 riel Sabar's father, Yona, was born to an illiterate mother in a mud hut in the remote Kurdish region of northern Iraq. Protected by towering mountains, the Jews of Zakho dwelt peacefully among Muslims and Christians for hundreds of years. Rugged lumberjacks and humble peddlers, self-made mystics and gifted storytellers, the members of this Lost Tribe of Israel were so isolated that they still spoke Aramaic, the language of Jesus. But in the late 1940s, the outside world would come crashing in. Yona Sabar would be the last boy to become a bar mitzvah in Zakho.
Young Yona and his family joined the mass exodus of 120,000 Jews from Iraq — one of the largest peacetime airlifts in history. In Israel, Kurdish Jews struggled against poverty and bigotry, watching helplessly as their ancient culture and language faded into oblivion. Yona worked his way through night high school in Jerusalem and then, against great odds, was admitted to Yale University, where he devoted himself to the rescue of his people's vanishing traditions. Now an esteemed professor at UCLA, Yona is one of the world's most sought-after experts on Aramaic.
Growing up in 1980s Los Angeles, Ariel wanted nothing to do with his father's strange immigrant heritage. Until he had a son of his own.
In this award-winning debut book, Ariel travels with Yona to war-torn Iraq in a quest for roots and reconciliation. A sweeping saga of Middle Eastern history,
My Father's Paradise
is also an intimate story of tolerance and hope in an Iraq very different from the one in the headlines today.

ARIEL SABAR
covered the 2008 U.S. presidential campaigns for the
Christian Science Monitor
and is an award-winning former staff writer for the
Baltimore Sun
and the
Providence
(RI)
Journal
. His work has also appeared in
The New York Times
,
The New York Times Sunday Magazine
,
The Washington Monthly
,
Mother Jones
,
Moment
,
Christianity Today
and other publications. He lives with his wife and two children in Washington, D.C. This is his first book.
(Photo by Andy Nelson)
RESOURCES:
Back to Calendar