---
Men's Club Book Group

"Enemies, A Love Story" by Isaac Bashevis Singer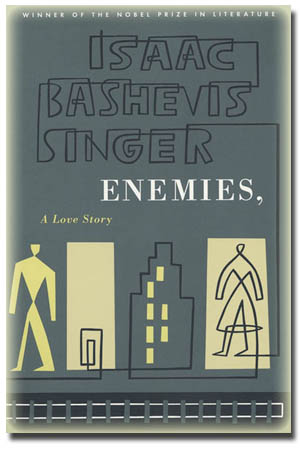 nemies, A Love Story
first appeared in 1966 as a serial in the
Jewish Daily Forward
, a Jewish-American newspaper published in New York City. The English translation was published in 1972, and a movie of the same title and based on the book was released in 1989.
"One is forever suspended between laughter and
tears by this rich
and marvelous novel."


— Christopher
Lehmann-Haupt,
The New York Times

ISAAC BASHEVIS SINGER
(1904 – 1991), the only Yiddish writer ever to be awarded the Nobel Prize in literature, was among the most popular and widely read authors of the 20th century. By the time of his death at the age of 87, Singer had received a lion's share of the world's foremost literary prizes, including the Louis Lamed Prize (1950, 1956), the American Academy Grant (1959), the Epstein Fiction Award (1963), the Daroff Memorial Award (1963), the Foreign Book Prize (France, 1965), two National Endowment for the Arts grants (1966), the Bancarella Prize (Italy, 1967), two Newbery Honor Book Awards (1968, 1969), two National Book Awards (1970, 1974), the S. Y. Agnon Gold Medal (Israel, 1975) and the Nobel Prize in 1978. In addition, he had been awarded 18 honorary doctorates and had been elected to both the American Academy and the American Institute of Arts and Letters, from which he had received the high honor of the Gold Medal.
(Source: Dictionary of Literary Biography)
Read an excerpt of the book »
Back to Calendar