---
Men's Club Book Group

"The 188th Crybaby Brigade: A Skinny Jewish Kid From Chicago Fights Hezbollah"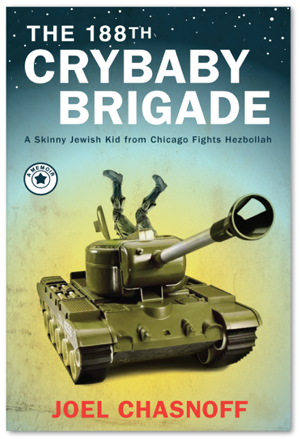 isillusioned with Ivy League post-graduate life, 24-year-old
Joel Chasnoff
makes real on his dream of giving back to Israel (and of being a "badass gun-toting soldier") and voluntarily enlists in the Israeli Army. What follows is a hilarious coming-of-age tale in which Chasnoff takes readers into the barracks, over, under and through political fences, and face-to-face with the absurd reality of life in the Israeli Army.
The lone American in a platoon of 18-year-old Israelis, Chasnoff finds himself caught in a twilight-zone-like world of baby-faced officers, diabolical sergeants and teenage Israeli mama's boys who feign injuries to get out of guard duty and claim diarrhea to avoid kitchen work…all while his relationship with his tough-as-nails Israeli girlfriend (herself a former drill sergeant) crumbles before his very eyes. With equal parts irreverence and vulnerability, irony and intimacy, Chasnoff blends a portrait of life in one of the world's most high-profile militaries with a poignant, thought-provoking look inward at a young man coming into his own.

JOEL CHASNOFF is a stand-up comedian and writer with stage and screen credits in eight countries. On tour, Joel was the warm-up act for Jon Stewart and Lewis Black of The Daily Show. Joel recently returned from a USO comedy tour of Japan and Korea, entertaining American Marines. He has supplied his voice to numerous cartoons and has performed at more than 500 colleges, clubs and Jewish conferences across North America, Israel and Europe. A portion of all proceeds from Joel's book and stand-up performances is donated to Joel's charitable foundation, Project Elijah, Most recently, Project Elijah sent 100 low-income New York City school children to the circus. Joel lives in New York.
Back to Calendar