---
It's too late to schedule an alert for that event.


Sabbath Services


Fifth Avenue Sanctuary
All are welcome to attend.
This event has passed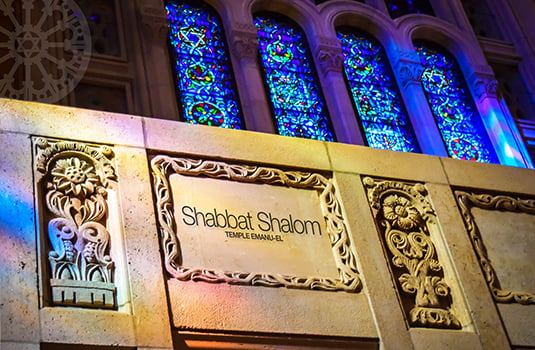 Sabbath services at Temple Emanu-El
are held Friday evenings at 6 PM (EST/EDT) and Saturday mornings at 10:30 AM. An organ recital precedes Friday evening services, starting at 5:45 PM, and Saturday morning services, starting at 10:15 AM. An
Oneg Shabbat
follows all Friday evening services. On Saturdays at 9:15 AM, worshipers are invited to join us for our Weekly Torah Study. Enter at One East 65th Street.
---
Friday D'var Torah: Joshua Davidson and the Rev. Dr. Calvin O. Butts III
To commemorate the life and legacy of the Rev. Dr. Martin Luther King Jr., Temple Emanu-El hosts a special worship service on the Sabbath of Dr. King's birthday. Our guests are the Rev. Dr. Calvin O. Butts III and the Abyssinian Baptist Church Choir. A special
Oneg Shabbat
reception will follow.
Saturday Sermon: Rabbi Sarah Reines (Torah portion:
Va-eira
)
Cantor Mo Glazman will lead Friday's service.
Cantorial Intern Alex Kurland will lead Saturday's service.
---
In June 2015, Temple Emanu-El began using an updated version of the
Union Prayer Book
with gender-sensitive poetry and prose, as well as contemporary idioms and transliterated Hebrew. This offprint was created for us by Rabbi Howard Berman, executive director of the Society for Classical Reform Judaism and co-editor of
The Union Prayer Book: Sinai Edition, Revised,
the contemporary-language version published in 2012. Temple members who wish to express their thoughts about what they value in a prayer book should
send a message to our rabbis
.
Learn more about worship at Emanu-El »
Back to Calendar