---
Service of Remembrance for the Reverend Dr. Martin Luther King, Jr.

Remembering Dr. King and Shabbat Shira Service

Friday, January 18 | 6:00 PM
Fifth Avenue Sanctuary
We invite our entire community, including our young professionals,Religious School families and members new and old, to celebrate the life and legacy of the Reverend Dr. Martin Luther King, Jr. through song and prayer on Shabbat Shira, the "Sabbath of Song." Our guests will be the Reverend Dr. Calvin O. Butts III and the Abyssinian Baptist Church Choir. A special oneg Shabbat reception will follow.
Sunday, January 20, 2019 | 11:30 AM
Abyssinian Baptist Church, 132 Odell Clark Place, New York, NY 10030

On Sunday, temple members are encouraged to attend morning services at Abyssinian. Family and friends are welcome, too. The service will start at 11:30 AM. Rabbi Davidson will be delivering the homily. A courtesy shuttle bus will be provided for members who wish to attend, departing from 10 East 66th Street promptly at 10:30 AM and returning after the service. A light breakfast will be served before busing, starting at 9:30 AM. RSVP for busing:
[email protected]
or
212-507-9513.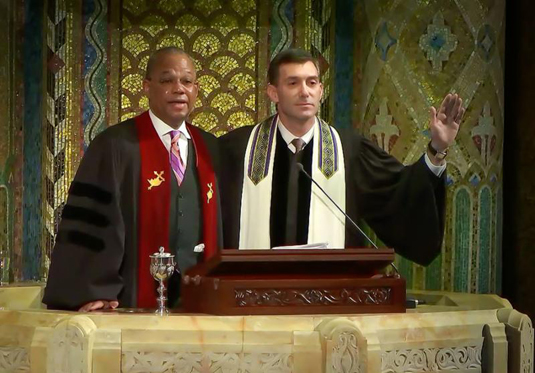 Back to Calendar