---
Men's Club Book Group

The Counterlife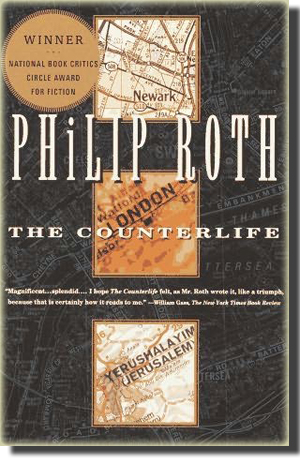 he Counterlife
is about people enacting their dreams of renewal and escape, some of them going so far as to risk their lives to alter seemingly irreversible destinies. Wherever they may find themselves, the characters of
The Counterlife
are tempted unceasingly by the prospect of an alternative existence that can reverse their fate.
Illuminating these lives in transition and guiding us through the book's evocative landscapes, familiar and foreign, is the mind of the novelist Nathan Zuckerman. His is the skeptical, enveloping intelligence that calculates the price that's paid in the struggle to change personal fortune and reshape history, whether in a dentist's office in suburban New Jersey, in a tradition-bound English village in Gloucestershire, in a church in London's West End or in a tiny desert settlement in Israel's occupied West Bank.
(Publisher's Synopsis)
RESOURCES: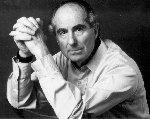 PHILIP ROTH was born in 1933 in Newark, N.J., the setting of many of his novels. His writing career began in controversy with his first book,
Goodbye Columbus
(1959), a novelette and five short stories that depicted Jewish life candidly and which attracted the praise of critics and the shame and ire of many in the Jewish establishment. His novel
Portnoy's Complaint
(1969) was another bold — and to many, embarrassing — look at Jewish life, this time focusing on a young man and his obsession with his mother and his sexuality.
Roth's recurrent protagonist, Nathan Zuckerman, is a novelist who, like Roth, was born in Newark in 1933 and whose career in many ways resembles that of his creator. Zuckerman's first book,
Higher Education
, created controversy in the Jewish community, just as
Goodbye Columbus
and
Portnoy's Complaint
did for Roth. Once labeled "the bad boy of Jewish literature," Roth was prodded to continue writing controversial books. In
The Counterlife
, Zuckerman is told, "you would probably never have written those books about Jews if Jews hadn't insisted on telling you not to."
The "Zuckerman Bound" series includes
The Ghost Writer
(1979), in which the young novelist visits his mentor, an elder Jewish novelist, and becomes obsessed with a young woman whom he believes is Ann Frank. In
Zuckerman Bound
(1981), the frustrated novelist leaves his wife, becomes estranged from his younger brother and continues to obsess. In
The Anatomy Lesson
(1983), Zuckerman suffers a mysterious illness, finds solace in sex, and tries to become a doctor and a pornographer.
Prague Orgy
(1985) is a series of journal entries narrating Zuckerman's travels to Soviet-occupied Prague in search of a lost manuscript by a famous Yiddish author.
The Counterlife
(1986) continues the story of Zuckerman where the "Zuckerman Bound" series leaves off.
Back to Calendar