---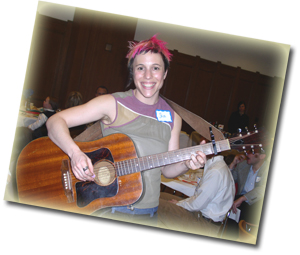 s there anything more precious than celebrating a holiday with your family? With storytelling and music and crafts, introduce your children to the joy of Shabbat. Take a short break from your weekly routine and allow yourself to be immersed in the treasures our tradition offers.
Shira Kline
, a Jewish educator and early learning specialist, partners with
Rabbi Amy Ehrlich
to make each Tot Shabbat "singing service" memorable.
Light refreshments and art are part of each Tot Shabbat experience. Grandparents and special family members always are welcome to share the fun!
Following are Tot Shabbats for the 2012-2013 (5773) programming year:
Wednesday, October 3* • 2 PM – 3 PM
*Special event for Sukkot


Saturday, November 10 • 10 AM – 11:30 AM


Saturday, December 8* • 10 AM – 11:30 AM
*Special event for Chanukah


Friday, January 25* • 3:30 PM – 5 PM
*Special event for Tu BiSh'vat


Saturday, February 23* • 10 AM – 11:30 AM
*Special event for Purim


Saturday, April 6 • 10 AM – 11:30 AM


Friday, May 3 • 5:45 PM – 7 PM
All services are held in the Leventritt Room (One East 65th Street). Please help us by
registering in advance.
Also, let us know if you have taken photos at the event that you are willing to share.
Back to Young Families