---
Eight extraordinary stories, eight exceptional teachers...
Not for nothing is the Bible the best-selling book of all time.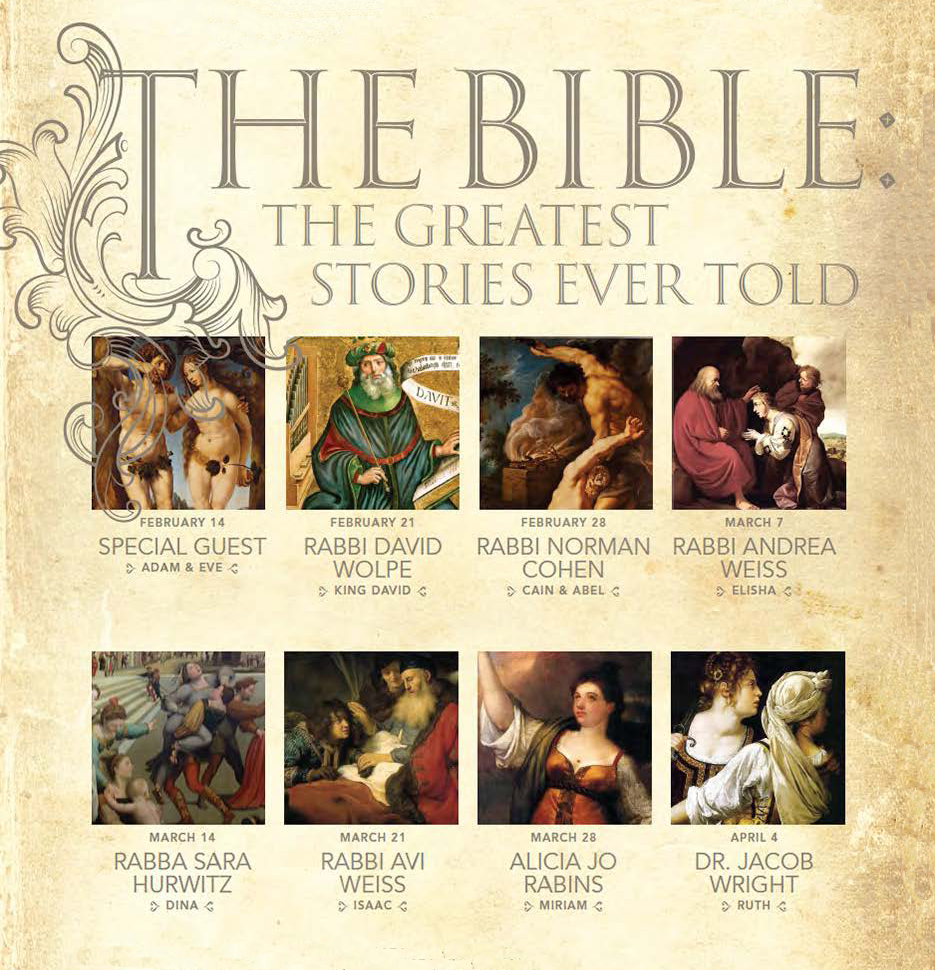 Love, desire, betrayal, sibling rivalry — it's all writ large against a backdrop of burning bushes, splitting seas and more transmogrify than you can shake a priestly rod at. Of course, strip away the paranormal (okay, and the prohibition against mixing fabrics in one garment), and a lot of the stories start to feel remarkably relevant circa 2017. Now is your opportunity to delve into eight of the best, each with a different — and captivating — expert.
Each week, a different distinguished biblical scholar will present an in-depth profile on one of these fascinating stories:
• February 14,
Adam & Eve
with
Rabbi Barry Schwartz
• February 21,
King David
with
Rabbi David Wolpe
• February 28,
Cain & Abel
with
Rabbi Norman Cohen
• March 7,
Elisha
with
Rabbi Andrea Weiss
• March 14,
Dina
with
Rabbi Sara Hurwitz
• March 21,
Isaac
with
Rabbi Avi Weiss
• March 28,
Miriam
with
Alicia Jo Rabins
• April 4,
Ruth
with
Dr. Jacob Wright
Reserve tickets now!
QUESTIONS?
Contact the Temple Emanu-El Streicker Center:
info@emanuelstreickernyc.org
or
(212) 507-9580
.
Back to Temple Emanu-El Streicker Center