---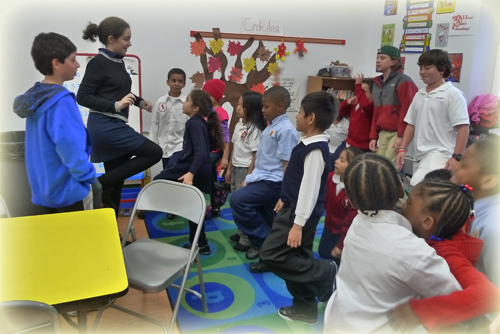 Justice, justice shall you pursue.
— Deuteronomy 16:20
ew at Emanu-El since 2010,
Lirdof Tzedek
("Pursuit of Justice") is a program for eighth grade students that will train them to be effective leaders. In addition to providing a more regular and deeper volunteer experience,
Lirdof Tzedek
will teach students about different methods of working towards social justice.
Students who become
Mitzvah Messengers
* by the end of seventh grade will choose one issue to explore in-depth during their eighth grade year. By choosing one mitzvah for study, volunteering with the same organization throughout the year and studying timeless Jewish wisdom about the issue, students will build a stronger relationship and make a more lasting impression.
*In order to become Mitzvah Messengers, students must complete four units of Mitzvah Corps.
They also must attend all three sessions of a unit to receive credit for completion.
PROGRAM STRUCTURE
The program includes Sunday seminars and weekday volunteer sessions, each meeting roughly once a month.

Sunday seminars are learning experiences that engage students in Jewish wisdom and teach skills for volunteering, fundraising, advocacy and community organizing. These sessions help students to be strategic and set goals for further efforts.

Volunteer sessions are hands-on volunteer experiences at the volunteer organization. Students will run clinics once a month based on their interests and hobbies. Possible activities may include a monthly chess club, soccer game or music lesson. Students will keep a journal of their volunteer experiences.

In addition to these sessions, students will prepare Mitzvah Corps students for an action session at the volunteer organization, coordinate a day to inspire others in the community to volunteer, and speak with local government officials on behalf of the volunteer organization.
REGISTRATION INFORMATION
Complete the Religious School registration form (available in
Word
and
PDF
formats) and return it to the Department of Lifelong Learning. Participation in
Lirdof Tzedek
is available only to students whose families are members of Congregation Emanu-El. The 2013-2014 tuition fee is $1,075 ($50 discount for registration forms and payments received by July 31, 2013).
We hope this program will bring families, friends and our entire community together to help those in need. Questions? Contact our
Lirdof Tzedek Coordinator
.
Back to Youth & Young Adults