---
At Temple Emanu-El, we welcome all who wish to participate in Jewish life: singles, couples and families in all their forms, interfaith couples, individuals with disabilities, and all people regardless of age, race, sexual orientation, gender identity or expression, or financial means.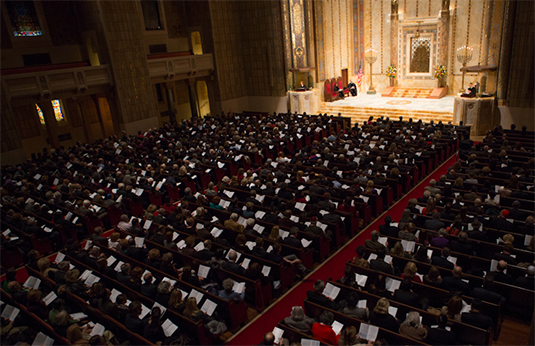 Photo by Will Star, Shooting Stars Pro
The minimum membership contribution for the fiscal year beginning June 2016 is $1,535 for one-member households and $1,650 for two-member households.
We currently offer two exceptions to this: a reduced rate for
Associate Members
(individuals between age 21 and 29) and
Family Memberships
. (NOTE: No one is ever denied membership for financial reasons; please call the Membership Office at
(212) 507-9514
to let us know of your needs.)
As safety remains one of our top priorities, we will continue to charge a security fee of $100 per adult in each household. This fee helps us maintain the highest standard of professional support and a state-of-the-art infrastructure. Associate and Junior Members will be asked to contribute $25 per adult in each household.
Dues are billed in June each year and cover most aspects of membership in Temple Emanu-El, including services by the clergy, use of the facilities, access to member-only events and services, and special consideration at events open to the public. Dues also are a credit toward seating during the
High Holy Days
.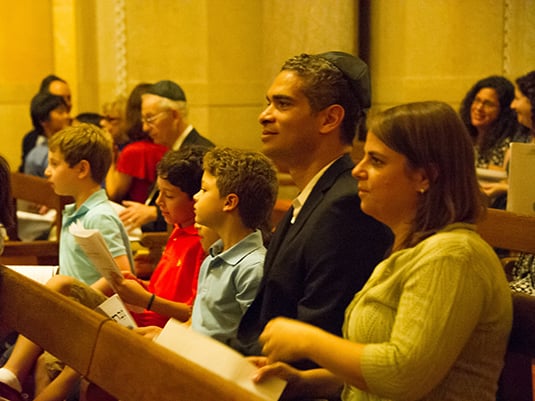 Use our
secure, online credit card form
to pay membership dues and Religious School tuition, as well as to join our auxiliaries.
Prospective temple members should download and complete an
application for temple membership
and return it to the Temple Office.
---
Sanctuary Seating
Limited seating is available in both the Fifth Avenue Sanctuary and the Leon Lowenstein Sanctuary. Temple members wishing to reserve seats, as well as persons interested in becoming temple members, should contact Jessica Ingram, our director of Member Services, at
(212) 507-9514
or
jingram@emanuelnyc.org
.
Refer to the following tables and examples for the contribution per seat:
LOWENSTEIN

| | |
| --- | --- |
| Per Seat | Section |
| $1,575 | A |
| $1,400 | B |
| $1,250 | C |
| $1,020 | D |
FIFTH AVENUE SANCTUARY

| | | | |
| --- | --- | --- | --- |
| Per Seat | Section | Per Seat | Section |
| $3,275 | E | $1,120 | J |
| $2,520 | F | $ 970 | K |
| $1,875 | G | $ 935 | L |
| $1,580 | H | $ 835 | M |
---
Additional Fees
Small additional fees are required for membership in our temple auxiliaries,
the
Men's Club
and the
Women's Auxiliary
.
Enrollment in Temple Emanu-El's
Religious School
is open to children of temple members only. In addition to the fees for temple membership, families will be charged tuition for each child enrolled. Tuition for the 2017-2018 fiscal year is
$1,450
per child, which includes books and supplies.
A $50 discount per student will be issued to any family that registers in full by submitting a completed form and full tuition payment by June 30, 2017.
---
QUESTIONS ABOUT DUES AND SEATING?
Contact our
Membership Director
.
Back to Membership